You will read it all over our website: "Request a Quote" or "Design Your Own Door". But what actually happens when you design your folding door and how does the Compact door configurator work?
1. Design your door
With the new door configurator, it is very easy to design your desired Compact door. On the right-hand side there is a drop-down menu where you can make all your selections. In addition, you can give your door a name below and select the number of the same version or design and add another door.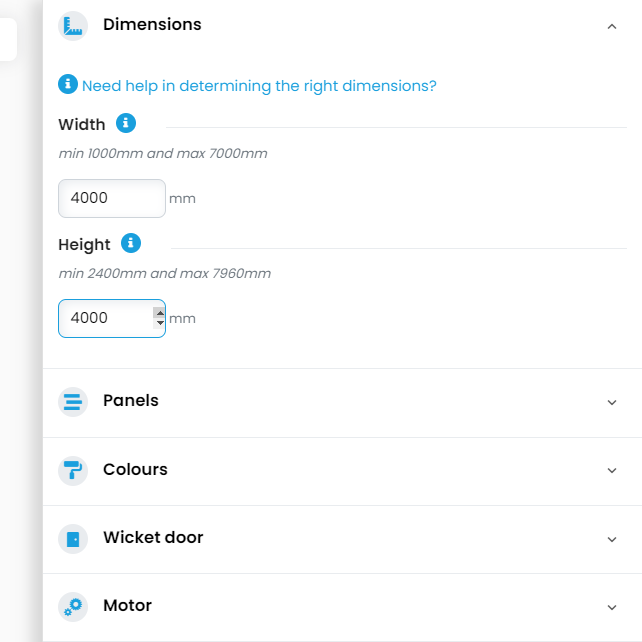 Select panels
Now it is time to decide on the appearance and the division of the door. To do this, you can either choose one of the suggested door leafs …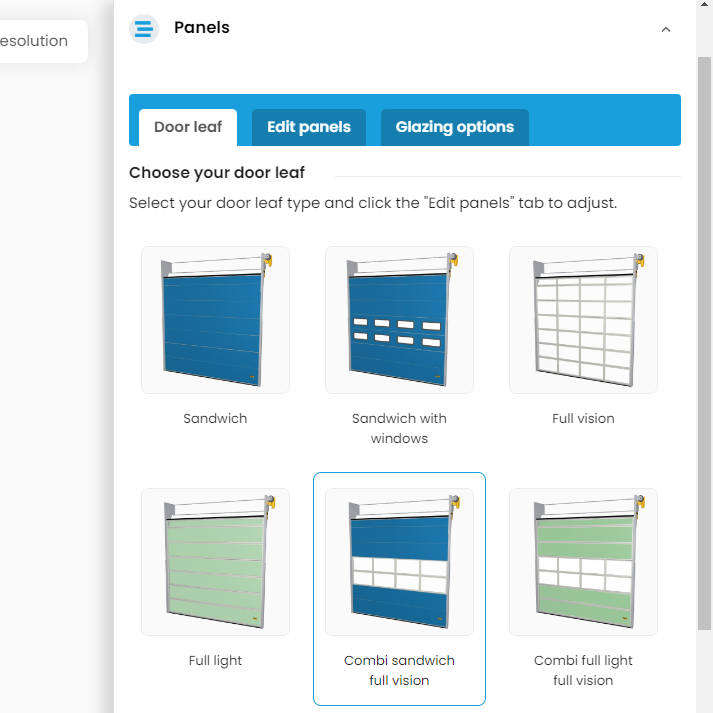 … or decide per panel which filling you want.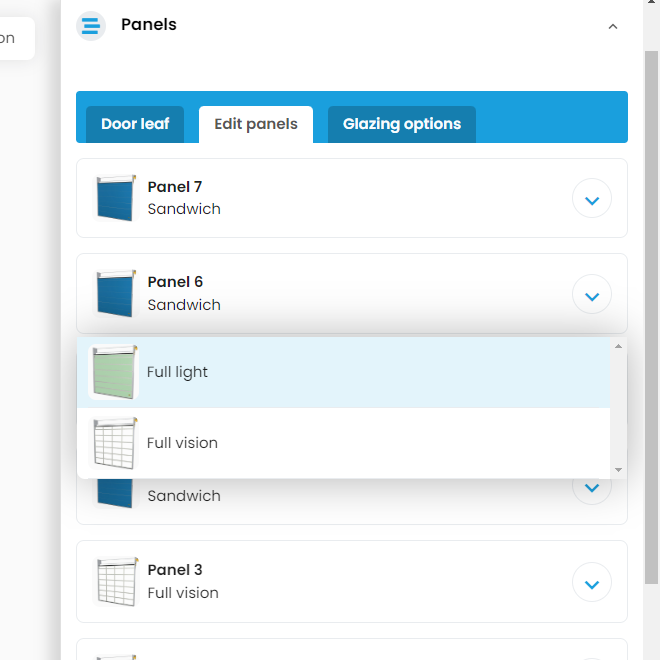 Colours inside & outside
This is where colour comes in. Determine the exterior and interior colour of the door. These can be different. There are 10 standard colours to choose from.
Optionally, you can specify your desired RAL colour.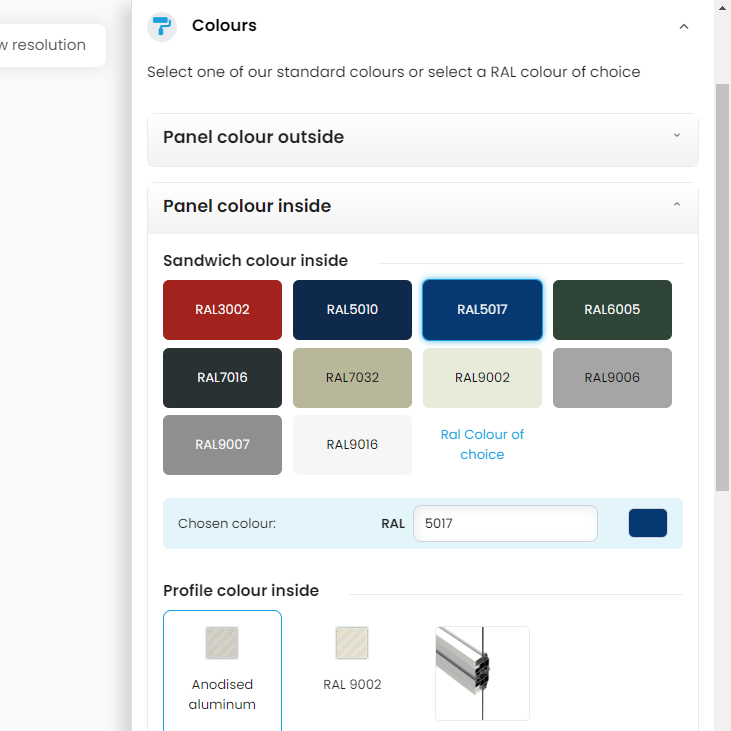 You can also specify here whether you would like to have other parts powder-coated. For example, the rails and folding plates. This is optional.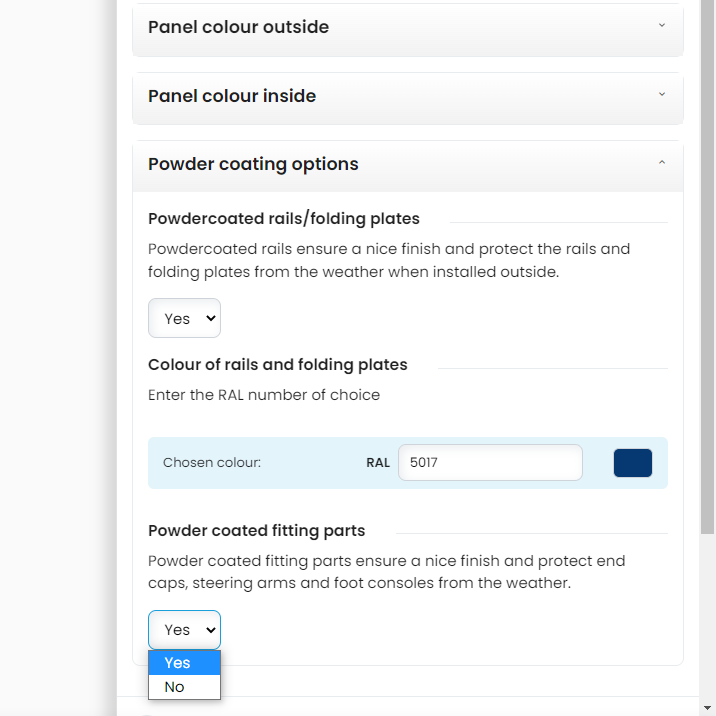 Wicket door?
If you would like to have a wicket door in the door, you can specify this here. You can also choose where the wicket door should be positioned, whether it opens inwards or outwards and on which side the hinges are located. Learn more about the wicket door and the possible positions.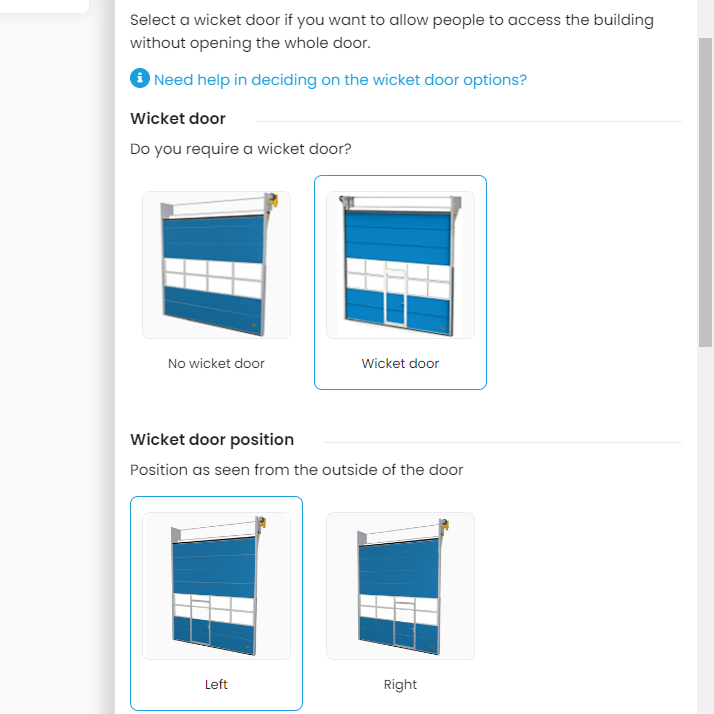 Motor position
Depending on how much installation space is available, you can decide to install the motor differently. As standard, the motor is on the side (left or right). However, it can also be mounted on top or in front position. Find out more about the motors here.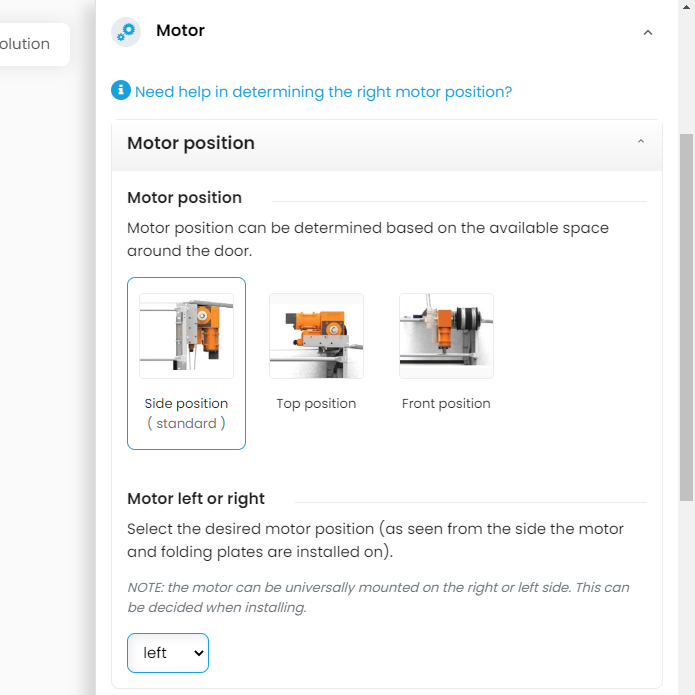 Accessories and other options:
All features below are optional. The configurator has already selected the usually standard options for you. In case you need to have additional options, you can go through these menu options. Otherwise, you can finish the configuration by clicking on the "Complete Request" button.
Installation options
Usually, the door is installed inside the building. However, it can also be mounted on the outside of a room inside the building (Exterior installation "indoor") or completely outside the building. If it is installed outdoors, some parts of the door must be protected from the weather with a protective cover and other protective measures (Exterior installation "outdoor"). If the door package and the motor are roofed over, no protective cover is required (Outdoor package without protective covers). If none of the installation packages apply to you, you can also select your installation options yourself. Learn more about external installation.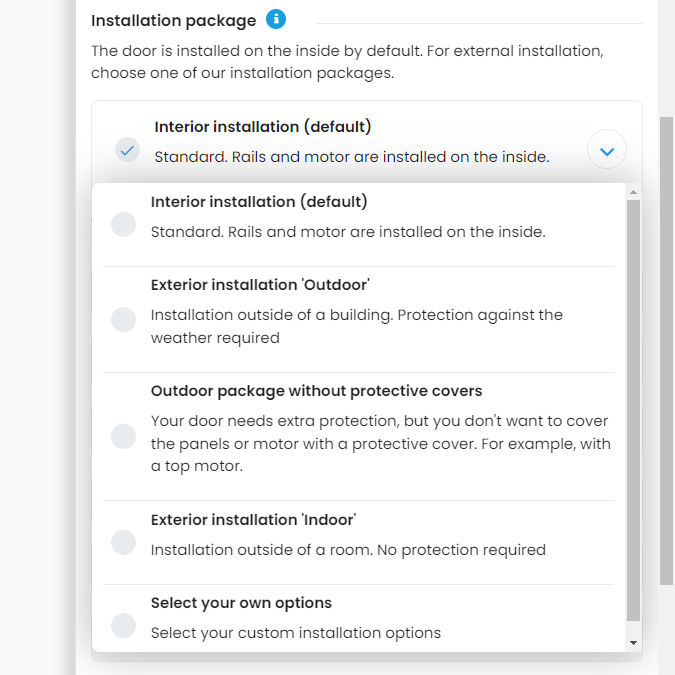 Finishing
Now you can decide on further options. For example, the protective covers and powder-coated rails can also be chosen to create a more attractive look. The same applies to a fascia panel, which creates a beautiful transition between the door and the lintel.
Of course, there are also practical options, such as the extended rails, thanks to which the door package can be placed higher up. Or storm profiles that give the door stability in windy regions.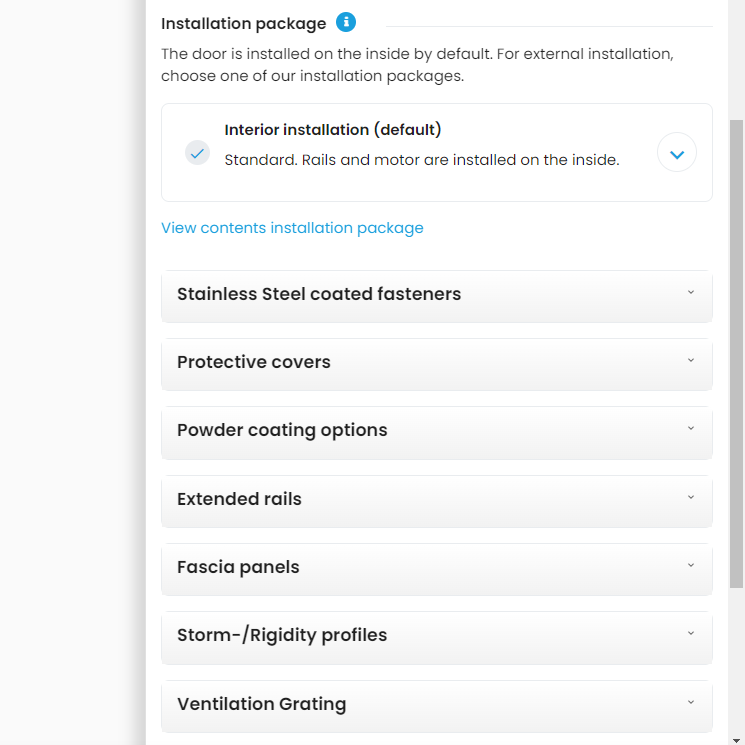 Operating options
Finally, you can decide on a type of control and operation. We have selected "automated closing" as a standard option. This option includes a light curtain for safety.
Here you can find all information about the operating options.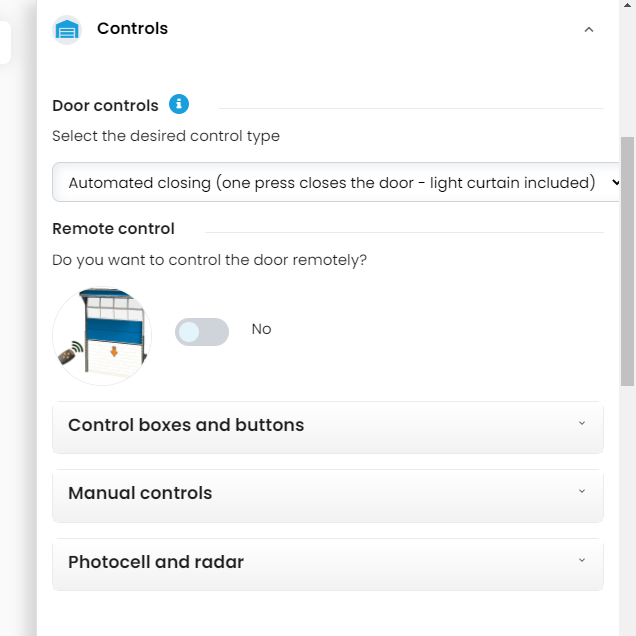 Finish the request
When you are finished, click on "Next" or "My door(s)" to go to your overview. There you can specify the number of doors in question or add further door designs. If you are satisfied with your selection, click on "Complete request" to enter your data in the next step.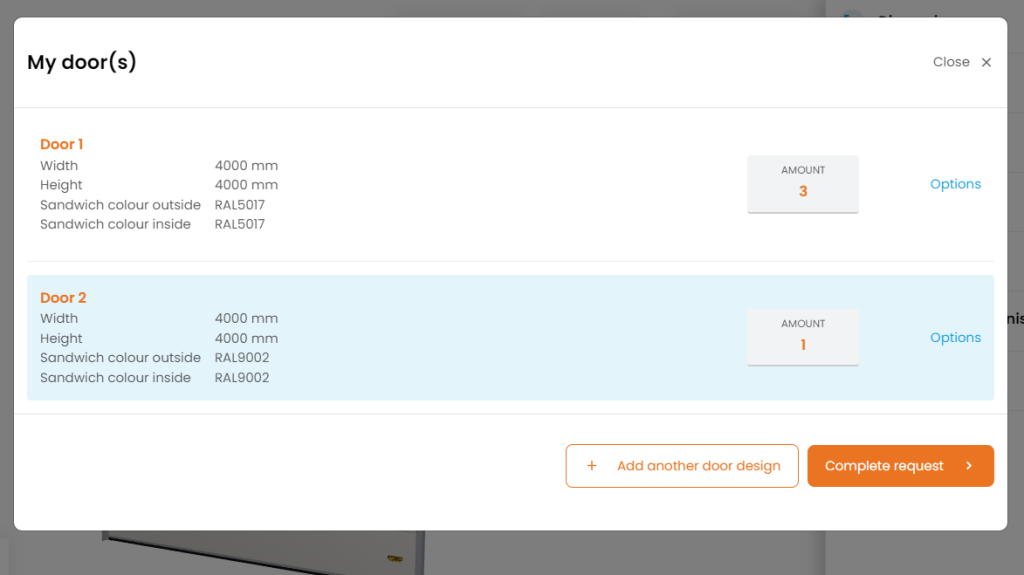 2. Request price and technical drawings
Now you can take another look at your request and enter your contact details so that we can send you a free quotation. Feel free to note any special requests or questions in the remarks field. You can also specify whether you would like technical drawings, AutoCAD files or architectural specifications of your door. Once you have filled in everything, you can send the request and you will soon receive a completely non-binding offer, as well as the desired files.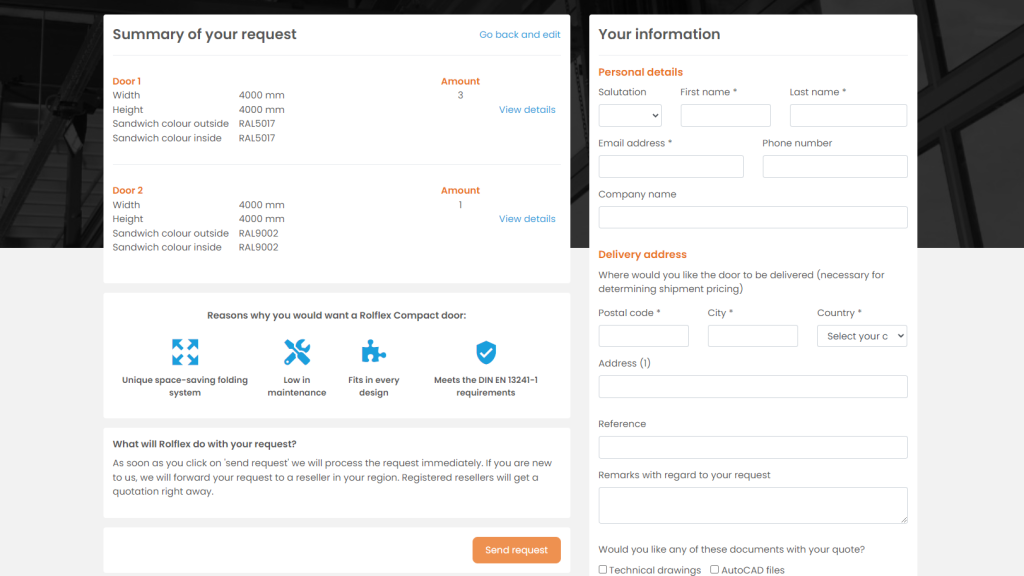 3. Individual advice for end customers, architects and contractors
Your request will be received by Rolflex. Quotation and drawings are automatically generated by the tool itself.
After receiving the request for quotation, we forward it to one of our Compact dealers in your region. The reseller will receive all the details of the enquiry from us and will be able to prepare a quotation for you based on this.
Depending on the region and type of request, we manually select the most suitable dealer. Do you want 60 folding doors for military barracks? Or do you want 1 door for a shed? We will select the most suitable dealer for you. The dealer in question will process your quotation request and send you a price quote as soon as possible. You can contact this reseller if you need advice or have any questions. As a matter of principle, Rolflex does not give out prices directly to end customers, contractors or architects abroad, this is always done via a reseller.
4. Are you a reseller yourself?
If you are a reseller known to us and request a price via the configurator, you will receive your offer in your mailbox immediately after your request. Please note that your e-mail address must be known to us, as the configurator recognises you by it. You are not yet known as our reseller? Please note this clearly in the comment field of the configurator so that we do not mistake you for an end customer and forward your request to one of your competitors. We will then contact you to see how we can process the request and whether you can / would like to join our network as a new reseller.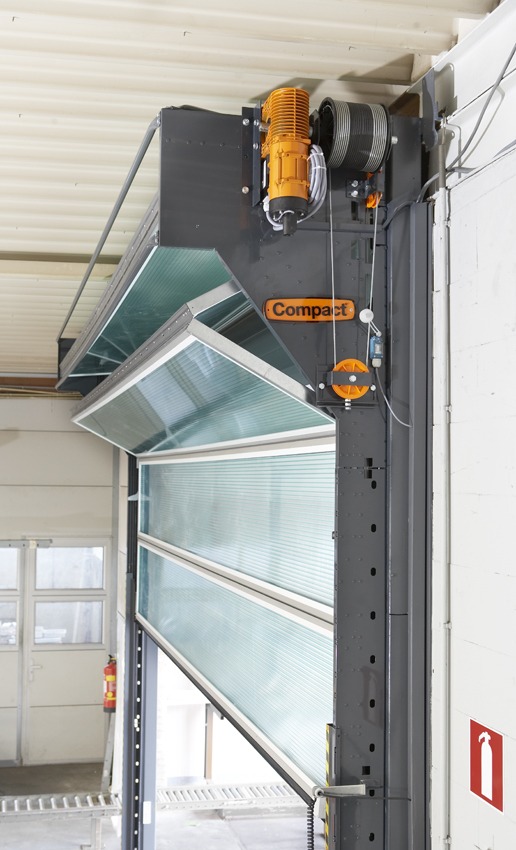 Why a configurator?
The Compact folding door is a fully customised product. All Compact doors are custom-made. The finished configuration is not only used for pricing, but also for production. By using the configured folding door as a guideline for the entire production process, we avoid production errors or ambiguities in the process.
The configurator therefore not only provides you with a quick price indication, but also guarantees flawless production so that you get exactly the sectional door you want. Now that you know how the Compact Door Configurator works, you can try it yourself.