Thanks to their unique folding system, Rolflex industrial doors do not require ceiling rails and are therefore space-saving. Besides the fact that this Compact door is space-saving, it is also well insulated and completely customizable in colour and design. This way we know for sure that we can offer you perfect replacement doors.
The advantages of the Compact door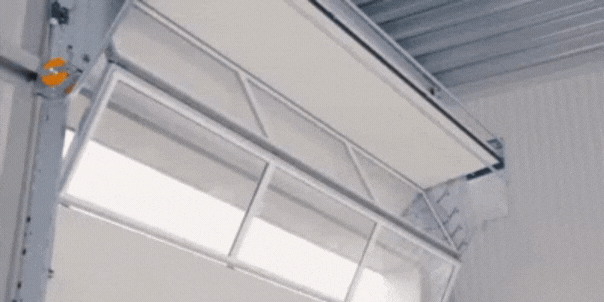 No ceiling rails, more space:
Thanks to the unique folding system that Rolflex has developed, the insulated panels fold up above the door opening. This leaves you with more space for lighting, installations or sprinklers, for example. In addition, it looks a lot sleeker and nicer than a steel frame on the roof.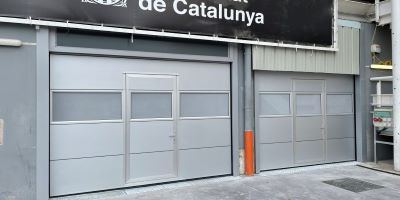 Wicket door possible:
The Compact bifold door is also available as a replacement door with wicket door. This way you or someone else can easily get in and out without having to open the entire door first.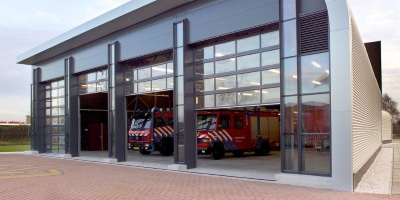 Practical and goodlooking:
Thanks to the unique folding system and the automation of Compact sectional doors, it is of course very practical. In addition to being very practical, it can also be completely adjusted in colour and lining. It is available in 10 different standard colours, so that the replacement door blends in nicely with its surroundings. All other colours are also possible.
Custom replacement doors for you
Compact folding doors are always custom made. Our replacement doors fit in every room and with every building. Almost all parts of the door can be supplied in any colour, so that the door blends in perfectly with the rest of the building. Is there limited space in the building? Compact roller doors can even be mounted on the outside of the room. This way you can use the entire interior space and there are no moving parts in the room. There are many more possibilities to completely adjust the door to your wishes, challenge us!