To increase natural light and provide visibility our Compact folding door panels are available with windows. These are placed in the sandwich panels. The windows are made of double walled acrylic with a black polythene framework. The frames come in two versions: rectangular and oval. One window can be placed every linear meter.
An important advantage of the windows is that they can be placed even after assembly and installation of the Compact door.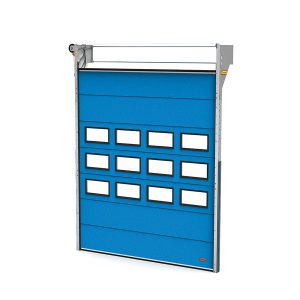 Rectangular windows
Double walled acrylic with a black polythene frame.
Light transmittance 0.18m²
Insulation value U=1.38W/m²K
One window per linear meter of door panel.
Outer dimensions
Inner dimensions

Oval windows
Window: double walled acrylic with a black polythene frame
Light transmittance: 0.17 m²
Insulation: U=1.38W/m²
Windows per linear meter of door panel: 1
Outer dimensions
Inner dimensions