The space-saving overhead door
Are you looking to replace your overhead doors or other doors? About 25 years ago, Rolflex developed a new type of overhead door: Compact folding doors. These doors look similar to traditional overhead doors on the outside, but have space-saving advantages on the inside. As the insulated panels fold up above the door opening, there is more room for installations.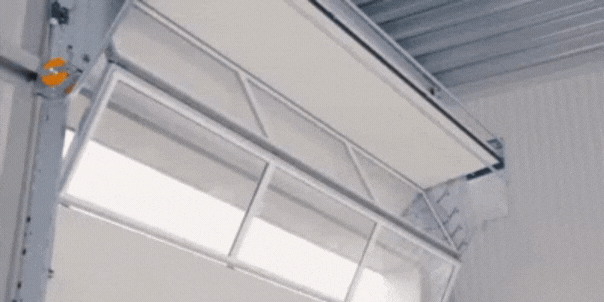 No overhead rails, more space 
The folding system requires no overhead rails. Ideal when you have a crane track, installations or equipment behind the door. The durable materials that are used ensure a long lifespan in any industrial environment. Moreover, this overhead door is low maintenance as it has no balancing springs.
A nice finish
As the panels can be neatly concealed above the door, this overhead door can also be used in a more commercial space like a showroom or store. They have even been used in museums and classrooms as room dividers. The invisible hinges and the numerous design options ensure a nice finish that blends in with the building.
Custom overhead doors
All Compact™ doors are custom made for you in our factory in The Netherlands and sold and installed by resellers worldwide. You can configure your own bifold door online on our configurator, free of charge. Need a quotation or drawing? Use the configurator. Try it now!