Your Compact door shows colour
There are countless design options for the Compact sectional door. Whether full glazing, transparent fillings or sandwich panels, the possibilities are almost unlimited. Of course, when designing the door, not only the choice of infill plays a role, but also the right colour. We have 10 different standard colours for you to choose from. If you prefer a different RAL colour, this is of course also possible.
Why do door manufacturers have preferred colours?
Door manufacturers usually offer a specific colour selection. These are colours that the most customers choose. Because it is simply impossible to always have all available colours in stock during production. The RAL colours alone already deal with around 2500 shades.
We manufacture the sandwich panels for the Compact sectional door in our in-house production at Rolflex in the Netherlands. We do this to ensure the high quality of our doors and to be able to respond flexibly to customer requests. All sectional doors are made individually in the desired colour.
What colours are there for sandwich panels?
Our sandwich panels consist of a CFC-free polystyrene filling bonded to an aluminium stucco panel. The panels have a very good insulation and can be designed in different colours on the outside and inside. We offer sandwich panels in 10 standard colours. As mentioned, other colours are available upon request.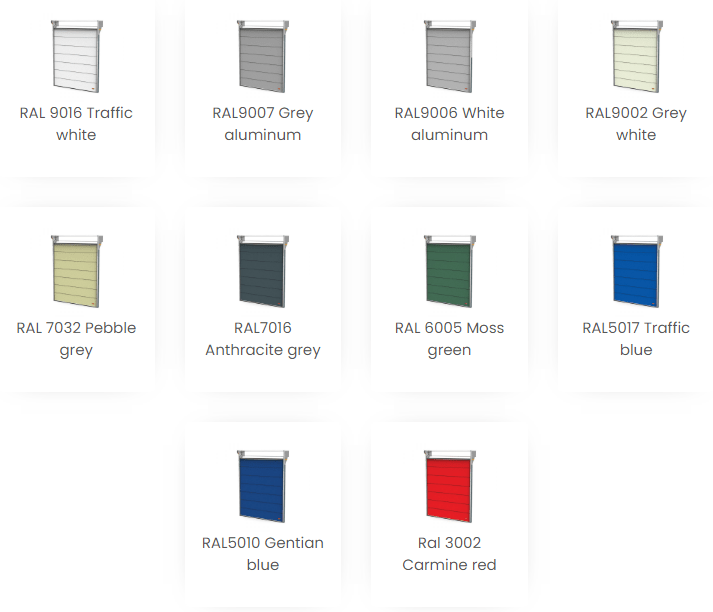 Read more about our sandwich panels here.
What colours are available for Full Vision panels?
Full Vision panels for a sectional door can be manufactured with a filling made of glass, acrylate or polycarbonate, among other things. They are completely transparent and therefore offer optimal light and a clear view. The fillings are inserted into the aluminum profiles using glass frames. These are standard in white, but can also be made in other colours. A glass sectional door is particularly suitable for showrooms, for example. With Full Vision panels one of the following colours can be chosen for the profiles.


Other RAL colours are optionally available at an additional cost.
Find out more about our Full Vision panels here.
How to design Full Light panels?
Full Light panels can be made in three different colours. These panels are translucent but not see-through, so you cannot see inside the building. The fillings are integrated into the aluminum profiles with glass frames. By default, white frames are used for this. However, other colors are also possible on request. The fillings consist of a polycarbonate twin-wall sheet and are available in the colours clear, opal or green.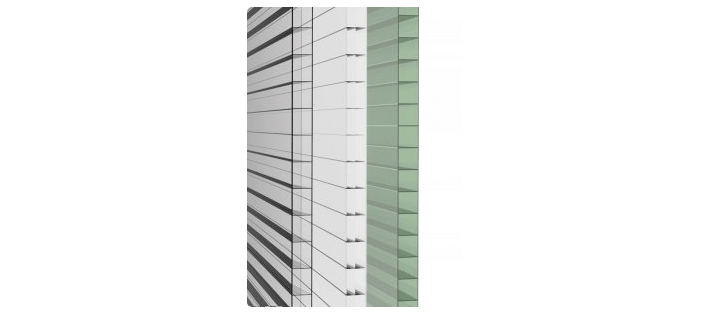 Here, too, you can choose the profiles in one of these two colours.


Other RAL colours are optionally available at an additional cost.
Read more about our Full Light panels here.
More parts in colour
It's not just the panels that can be colour-matched. You can also colour the rails, folding panels, top and bottomprofile and some other parts of the door. In this way you can adapt the whole sectional door to your wishes and your door will fit perfectly into the overall picture. The colouring of rails and profiles has another advantage: these parts are better protected from external influences. Particularly recommended in damp rooms and for external installation.
Is it possible to combine the panels?
All our panels can be combined with each other. For example, choose sandwich panels in combination with two Full Vision panels to let light into the building. Or combine Full Light with Full Vision panels. The possibilities are endless. Use our door configurator to design your own dream door and discover what is possible.
Request your colour fan deck!
Are you a reseller and would you like to show your colours to your customers directly in a conversation? Send an Email to marketing@rolflex.com and we'll send you a colour fan deck. This allows you to show your customers the standard colours as they will appear in reality.