Are you looking for new garage doors? What types of garage doors can you choose from and which one fits your demands best? Read this article to find out more.
There are roughly three types of garage doors. Depending on your budget, the available space in your garage or building and the expectations you have in terms of design will determine which door matches your demands.
Type 1. Up-and-over garage doors
The up-and-over door has traditionally been the most widely used low budget solution for smaller garage doors. With this type of garage door, the door consists of one piece and tilts backwards when opened. The cheapest solution, but with disadvantages for those who have more requirements. For example, this door is poorly insulated and it is not possible to add windows. The door also takes up quite some space when opening the door and the ceiling must be kept free as the door slides inwards.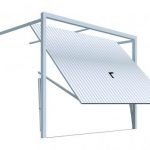 Favorable price
Especially for smaller garages
Not isolated
No windows possible
Takes up space when opened
Takes up ceiling space
Type 2. Casement garage doors
The casement garage door is a traditional type of garage door, which nowadays, due to the emergence of cheaper alternatives, is mainly used for more luxurious garages. Often made of wood (or steel), casement garage doors can be a decorative feature for your home or building. Of course they are also very practical: they are available in many versions and can even be fitted as an electric garage door. The disadvantage of this door is that it can be quite pricey. In addition, the doors take up a lot of space in front of your building when opened.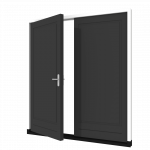 Versatile solution
Luxurious appearance
Windows possible
More expensive
Takes up a lot of space when opening
Type 3. Sectional garage doors
Sectional garage doors are the most popular garage door type nowadays. This door is widely used in private garages as well as in corporate buildings. The door consists of various panels (sections), which make it possible to slide the door up and over the door opening along tracks. As a result, the sectional garage door takes up less space when opening and closing than the above alternatives. The panels are insulated, so this type of door also helps to prevent heat loss. If you maintain a standard size and do not need a large door, this can also be an interesting alternative to an up-and-over door from a price point of view. The disadvantage of this door is that the ceiling does not remain free. These doors can also be more maintenance-sensitive with frequent use, because balance or torsion springs are used. These ensure smooth opening of the door, but are subject to wear.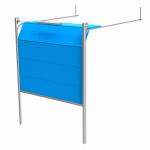 Versatile solution
Favorable price for standard sizes
Windows possible
Isolated
Ceiling cannot be used for other purposes
Higher Maintenance
The other (better) option: The Compact garage door
There is an even better alternative for larger garage door openings (>3 meters high). The Compact garage door. This is also a sectional garage door, but one in which the panels fold up above the door opening. It is a garage door without tracks, so you keep the ceiling free to mount lights or installations or place higher racks, for example. The ceiling can also be beautifully finished and there are no unsightly parts in sight. You can also add windows and a wicket door. Particularly suitable for more luxurious garages or commercial premises where you want to make optimum use of the working height. This door also has no balancing or torsion springs and is therefore lower maintenance compared to a standard sectional door.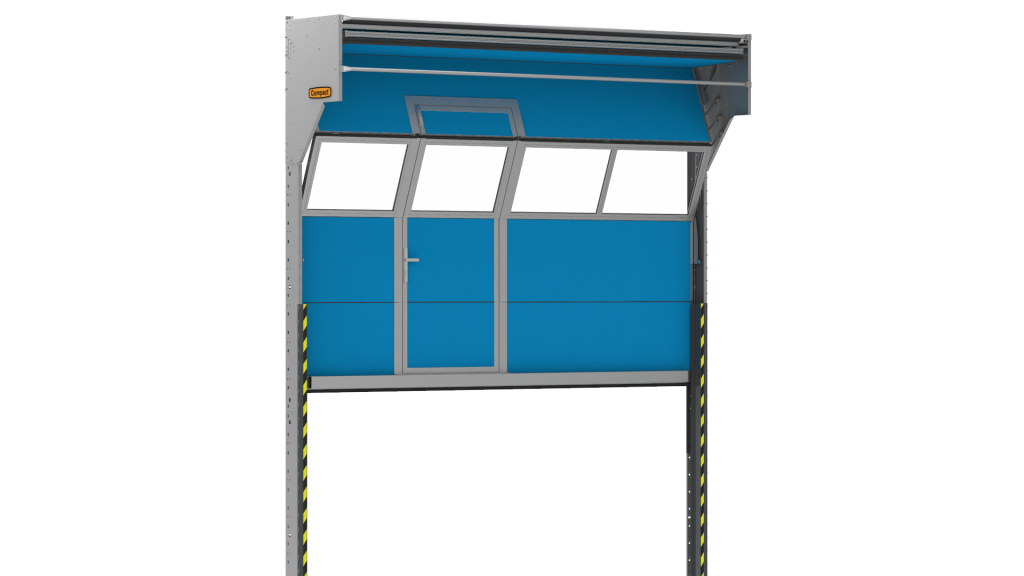 Made-to-order
No ceiling rails
Less maintenance than a sectional door
For larger doorways
Nice finish
Interested in the Compact door?
Have you determined which type of garage door is best for you? If you are looking for a Compact folding door, then you have come to the right place at Rolflex. As the inventor and manufacturer, we have been specializing in this door for over 25 years. We do not supply up-and-over doors or standard sectional doors, but only the customized Compact garage door.
Would you like to know what your ideal Compact door looks like? Receive a free quote? Use the online configurator and you will see it immediately.