Space saving commercial sectional doors
Commercial sectional doors are widely used in a wide range of businesses. Durable and well-designed doors give business-owners the security of having a door that matches their goals without failing.
Rolflex doors always go one step further. Thanks to the sectional folding system, the door has no overhead rails. Providing freedom in design and free space for equipment and lighting.
The advantages of these commercial sectional doors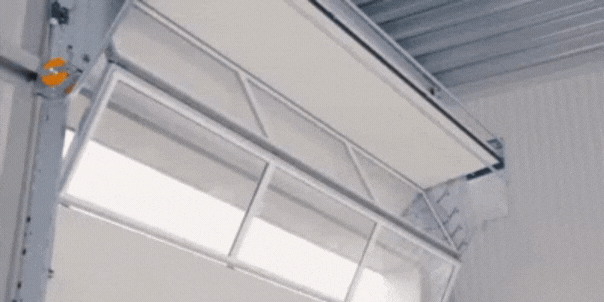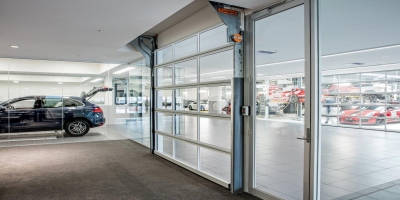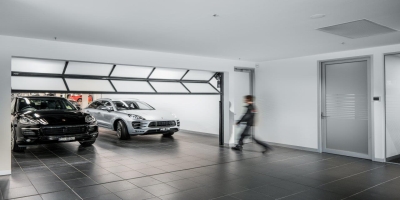 No ceiling rails, more space: Due to the unique folding system, the underlying panels fold up above the door opening. No ceiling rails are required. So you have more space for installations or lighting than with a standard door and you can finish the space nicely.
Versatile: These Commercial sectional doors can be used in a wide range of spaces. Both in areas where you receive customers, like showrooms, as well as in a distribution or storage building. The door can also be equipped with a wicket door.
High Quality, Low Maintenance: This door has been continuously improved and adapted for more than 25 years. Because only high-quality materials are used, the door is very durable. This door does not have balancing springs, which makes this a low maintenance door.
Customized commercial sectional doors
Our doors are always custom made to completely meet your needs. Almost all parts of the door can be supplied in any colour, so that the door blends in flawlessly with the rest of the property. For example, think of windows, a high-speed motor or a sectional door with a wicket door. The door is protected against burglary as standard and meets all safety standards. The commercial sectional doors for your building can be mounted on the outside of the room or building so that you can use your space optimally.
Design your own commercial sectional door online in our 3D configurator. Freely accessible and without any obligations. Would you like a quote for your sectional door, or a technical drawing? This can also be done via the configurator!