This school year, VO Eemsdelta started as an educational village, in which three secondary schools are located. The project took more than 4 years and has been used by both students and teachers since the school year 2022-2023. The building was designed by de Unie Architects and has a floor area of almost 17,000 m2. Rolflex overhead doors were used in one of the buildings on the Eemsdelta college.
On the campus there is a technical building with workshops and technical rooms, which are not only available to the students of the school, but are also accessible to the local residents. The Compact overhead doors are used in the technology building. One of the doors acts as a flexible partition between the corridor and the technical room, while the other doors close the premises to the outside. All three doors are Full Vision doors, allowing sufficient daylight inside as well as creating a modern appearance.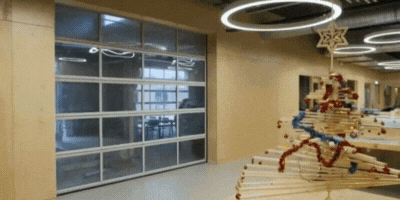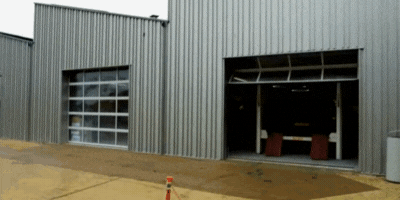 The architect opted for Compact overhead doors in the building because the doors take up little space. The Compact doors can be easily concealed because there are no ceiling rails. In addition, the architect was impressed by the attractive, industrial appearance of the Compact overhead doors, which fits perfectly with the design of the building.
Interested in the Compact overhead door?
The Compact overhead door is a unique door due to its folding system. The door is custom-made for you in the Rolflex factory in the Netherlands. The door has many design options and we are happy to advise you about the possibilities.
Do you want a price indication? Or know what options there are? Then try our online configurator. Put together your door and you will immediately receive a price indication.