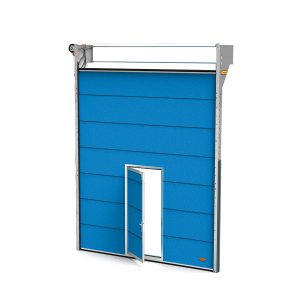 When your door is being used as an entrance for your staff or clients, it may be wise to install a wicket door.
A wicket door in the Compact door allows people in without opening the entire door. This saves energy and time.
A folding door with a wicket door?
The Compact door is the only folding door in which a wicket door can be integrated. Moreover it is the only sectional door in which you can determine the position and the opening direction. The wicket door can be integrated in both doors with sandwich panels and doors with transparent panels.
The wicket door profiles are made of anodized aluminum. Rubber sealing around the door makes the door water- and windproof.
The door has an electronic safety system, which ensures the wicket door can only be opened when the folding door is completely closed. The door comes with a euro cylinder lock and three keys. Optionally, it can be delivered with a panic lock, which enables opening from the inside at all times.
Are you looking for a space-saving sectional door with a wicket door? Try our configurator and design your ideal Compact folding door.