When you opt for an automatic closing system on the Compact door, the door will always be fitted with a light curtain safety system.
Preventing entrapment
When closing an industrial door, the door blade can harm or damage and object or a person. When you operate the door with a button next to the door, you can see the door and stop the door from closing when someone or something is underneath the door blade.
In case of an automatic closing system, e.g. a remote controlled or automatic locking system, additional safety measures are required to prevent entrapment. Whenever you can operate the door without physically seeing it, this prevention is needed. This is why the Compact door is always equipped with a light curtain safety system.
What does a light curtain safety system do?
The light curtain emits signals from one side of the door opening to the other. In case the signals are interrupted by a person or obstacle, the door immediately stops closing and starts opening up again. This prevents damage and injuries.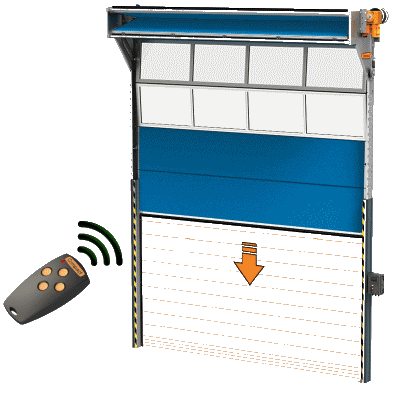 Why did we choose for the light curtain?
There are many different systems that are installed on industrial doors to prevent entrapment.
The most frequently used alternatives are a pressure-controlled safety edge or a photocell safety system.
Our experience has learned that the air pressure controlled safety edge is less reliable and required more maintenance in the long term. It operates by a air pressure sensor in the bottom rubbers of the door. After some time, this system gets polluted and does not function properly anymore. In addition, this system needs to touch the object before getting activated. In case of a moving object, damage may already be done by the time the door stops opening.
Photocells do not require additional maintenance, but it is still not our preferred option, as the photocell does not cover the entire door opening. If a smaller object passes the door, the photocell might not notice it. The light curtain covers a larger part of the door opening, therefore we feel this is the best option for protection against entrapment.
The Compact folding door: standard safety
The light curtain is an optional safety system, but the Compact door comes standard with a range of built-in security measures. Want to find out which systems? Read our page about safety.
Watch how the light curtain works