What should you know when considering one?
Industrial doors as a trend. The use of industrial materials in and around homes has become quite commonplace. For example, sleek steel frames are currently trending and this trend is evolving into other applications. We see more and more architects designing houses in which industrial doors are used. An industrial door is made for use in commercial buildings, but due to the industrial trend, the distinction in building materials for industry and private housing is narrowing.
Industrial doors can be used in garden houses and swimming pools, but also converted barns and patios. In addition, in some cases they can also be used as a partition in a building. Think of schools or restaurants where large spaces need to be divided into smaller rooms.
The sleek appearance and the possibility to close off a large surface means that the industrial door can, in some cases, be an alternative to a traditional sliding door, a folding wall or other standard partition.
What are the options when selecting an industrial door?
Unique handmade doors
Large, industrial steel doors are often tailormade. A tailormade door offers you unlimited options in terms of creativity, but it is usually a more expensive option as well. The higher price is a reason why a tailormade door is not for everybody.
Traditional overhead doors
Installing an overhead door can be an alternative to tailormade doors. Overhead doors slide upwards on a rail, usually installed on the ceiling. Overhead doors can be ordered in both standard sizing as well as a tailormade size, and can be produced at a relatively low price.
We as designers of the Compact folding door are not always enthusiastic about using traditional overhead doors in buildings, see images below. Especially in sleekly designed, nicely decorated spaces, the ceiling is marred by sliding rails. We can imagine many of your clients agree with us on that. For this reason we would say the traditional overhead door is not suitable for use as a room divider inside a building.
The Compact folding door for indoor as well as outdoor use
The Compact folding door folds up in the door opening, making it easy to conceal the door in the building. The door can be folded inwards or outwards, so that there is always a way to integrate the door invisibly. In the ceiling or on the outside of the building.
Because the door can be designed in many ways, using sandwich panels (in multiple colours), transparent glazing and semi-transparent glazing, the door can be installed in all kind of spaces. On the outside of the building as well as inside the building, as a room divider. In addition, the door operates silently, ensuring the door can be opened and closed without nuisance.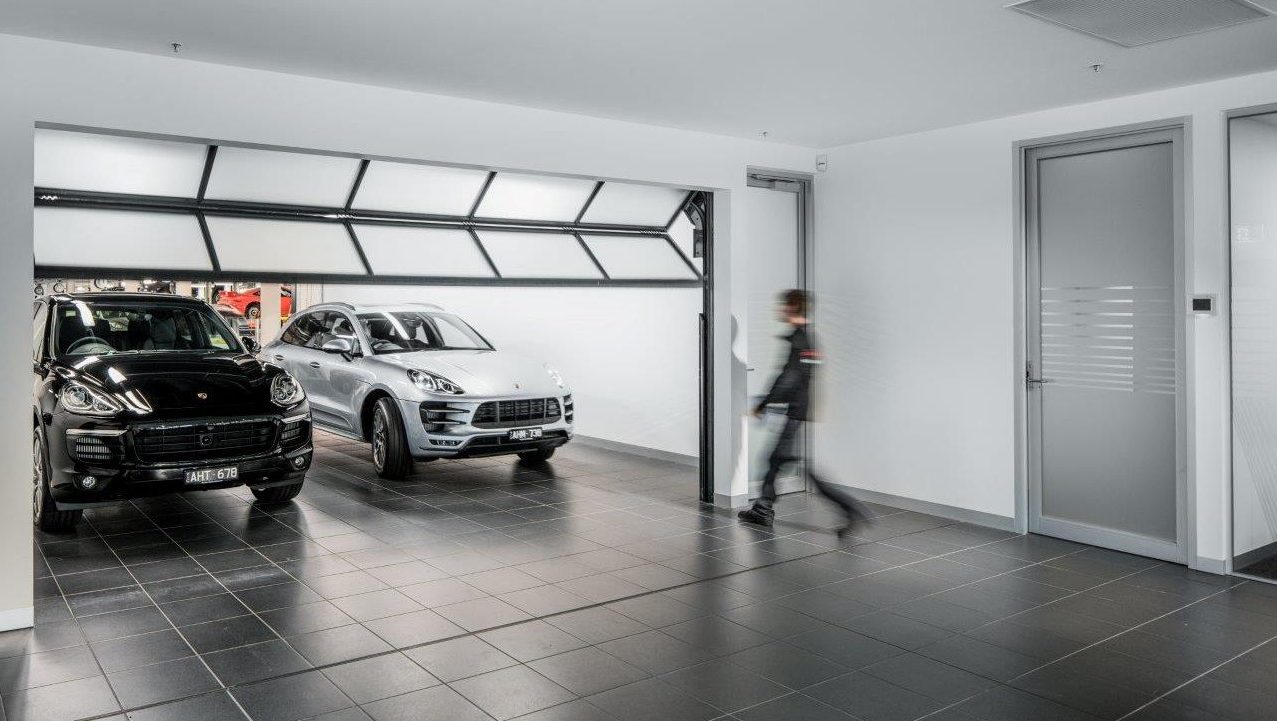 An industrial door in a non-industrial environment. What should you know?
What should you pay attention to when considering installing an industrial door of any type in or around a home?
Safety measurements are different for industrial doors in comparison with residential doors. We strongly recommend all architects to check the safety measurements of the industrial door. Even when installing a garage door in a living area, this can be wise.
Insulation values for industrial doors with plexiglass panels are usually lower than those of other types of residential doors with insulated glass. Consider this carefully.
Concluding:
The industrial door can be used in many other places than it was originally designed for. The industrial door as a trend is a given fact these days. The industrial door can be an alternative especially for closing off high and wide spaces. However, we would advise all architects to carefully check which safety requirements apply and what the desired insulating properties of the door or partition are.
About the Compact folding door
The major advantage of the Compact folding door compared to traditional overhead doors is that it takes up less space. No ceiling rails are needed. If you choose glazing in your design, we use high-quality acrylic, polycarbonate or single sheets of safety glass. This offers a luxurious appearance and optimal transparency, but insulates less than double or even triple glass. The Compact folding door is best suited for door openings higher than three meters.
Do you want to know how the Compact folding door fits perfectly in your building design? Design your door online now! You can download a drawing or BIM file, so you can add the door to your design. Need to know more? Our advisors are ready to help you.