The new Compact configurator will go live on Thursday 6 April. After 2 years of hard work on a completely new door configurator, we will finally make the switch this week.
Why a new configurator?
The old configurator was outdated and therefore difficult to manage. It had a 2D drawing of the door, which could sometimes cause confusion. Finally, it turned out that not all possibilities of our roller door could be configured. Reason enough for Rolflex to develop a new one.
What is so good about the new configurator?
The main visible difference is the 3D visualization of the door. The door can be turned around and can be opened. The wicket door can also be opened. No more confusion about opening directions and hinge sides. Features like outdoor installation will also be displayed more visually on screen.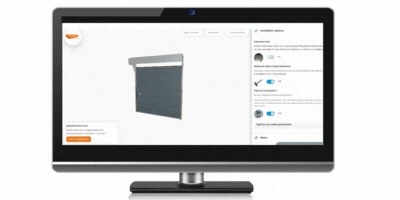 A little more functionality has also been added to make it easier to configure multiple industrial doors. Doors can be duplicated, allowing you to quickly create a series of doors that are almost identical. You can switch back and forth between the various doors at any time.
The options menu on the right has no fixed order, as in the old configurator. This may take some getting used to for regular users, but the advantage is that you do not have to go through all the menu options to configure a door. You can simply skip the options you don't need and click "Finish" at the bottom to request a quote or drawing.
We're not done yet…
Although the door configurator will go live this week, we still have a whole list of wishes for improvements or expansions. In some cases, there may still be teething problems in the configurator, despite the fact that we have tested it extensively. We therefore advise you to check your quotes carefully against what you have requested in the near future. If you notice something, we'd love to hear about it!