You may only know Rolflex as a manufacturer of the Compact sectional door. Did you know that we also have our own team of technicians in the Netherlands that installs and maintains the door for Dutch customers? This team of technicians is fully specialized in the Compact sectional door and therefore also a valuable source of information for our innovations and improvements. Because they are an important part of Rolflex, their safety and convenience when assembling the Compact door is of great importance to us. Therefore, last year Rolflex provided them with new buses and mobile scaffolding with a lightweight lift system.
Compact, Fast and Safe
Because no rail system is required on the ceiling, the amount of work that Compact sectional door fitters have to perform at height is relatively limited. Nevertheless, it is necessary to work at height for the rails, folding plates and the motor. To be able to do this safely and easily, Rolflex has provided all mechanics with a mobile scaffold with a scaffold lift. This elevator system can lift tools and parts in 10 seconds.
Maarten Mulder of Rolflex explains "Our sectional doors are sometimes located in places that you cannot reach with an aerial platform, so the compact rolling scaffold with lift system is the best solution. Our technicians often go out alone, so you need equipment that is designed for this. This mobile scaffold can be erected by one person. The handy lift system lifts the tool upwards and is operated with a cordless drill. This is convenient, because they already have them with them for assembly anyway."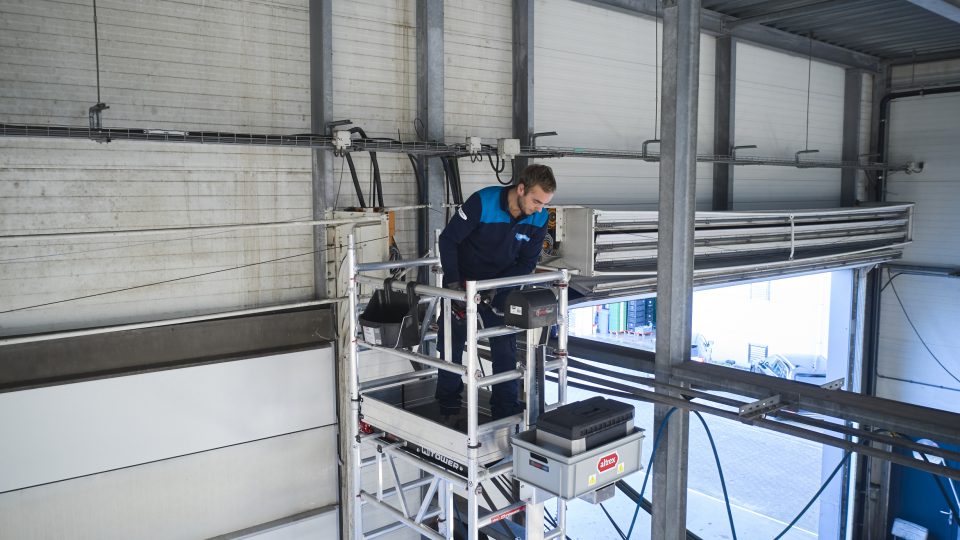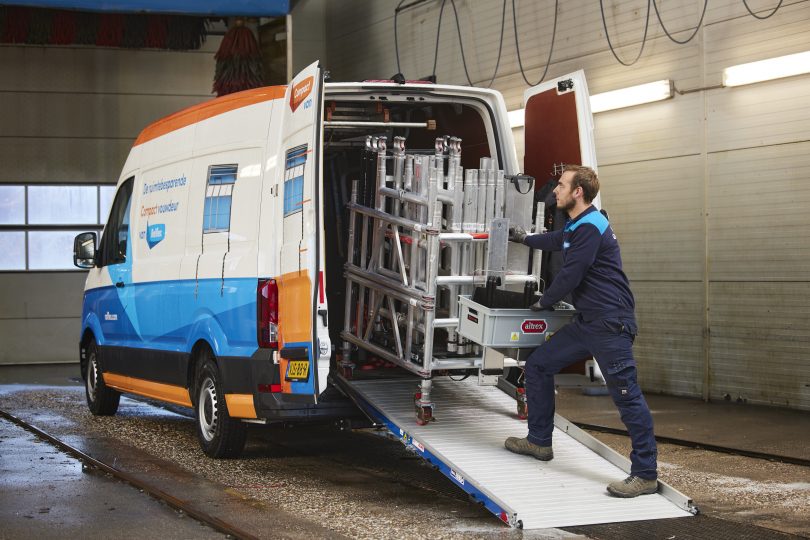 Adapted to changing standards
"The standards and rules in our field are getting tighter and stricter," says Mulder. "We obviously have to and want to stick to these rules, especially when it comes to safety – we want our men to come home safe and sound in the evening. The motors easily weigh 20 kilos, they have to get up in a safe way. Moreover, if you have to lift a motorcycle to 4 or 7 meters several times a week, it is physically demanding. This elevator takes the heavy lifting off your hands." With this set of mobile scaffolding and lift system, Rolflex meets the standards again and the mechanics can work safely and comfortably.
Ease of installation high on the list
The Compact door originated as a sectional door that could easily be installed by one person. This ease of installation is still high on the priority list. Not only for our own technicians in the Netherlands, but also for all resellers around the world. We are therefore happy to share tips and suggestions for even more efficiency. We have also resumed providing (assembly) training and have a series of assembly videos that can be used to assemble the Compact door even more easily and efficiently. In this way we ensure that customers and technicians can take full advantage of the advantages of the Compact door.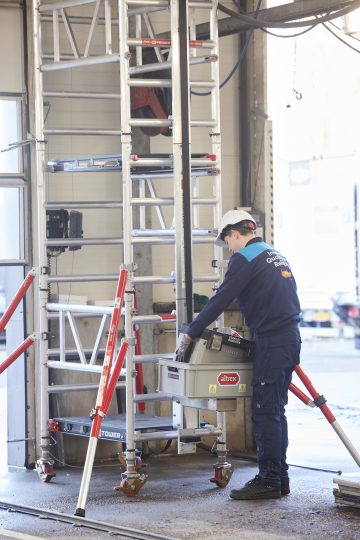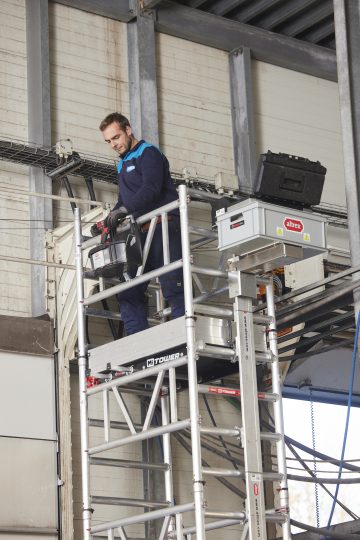 You can find more information about Altrex scaffolding here.