A customer calls in an emergency: "My sectional door is broken, I can't close it anymore! What now?" A defective sectional door, it does not happen often, but when it happens it is very annoying. You cannot enter your business, or you cannot close your business properly. An undesirable situation with possible negative consequences for the continuity of your company.
Not everyone knows that a sectional door, just like your car, needs regular maintenance. Or they know, but think they can save money by skipping it. We are happy to explain how you can prevent problems with your sectional door.
Prevent malfunctions and extend the life of the door
Depending on the use of the door, a defective door can mean downtime for some processes within your company or lead to longer waiting times. Use of the door cannot be continued until the technician has completed the repair. This can be prevented by having regular maintenance done on your door. During maintenance, possible defects on the door are detected and if necessary remedied, so that unnecessary downtime of your door is avoided and further damage is prevented. Regular maintenance also contributes to a longer life of the door.
Provide security and fulfill obligations
It is also important that the safety features of the sectional door are checked regularly. If this is not done, accidents may result with damage or personal injury due to non-functioning or improperly functioning safety devices. If the safety provisions are checked regularly and if necessary repaired or replaced, safety can be guaranteed again.
Occupational health and safety legislation
The employer must ensure by law that the workplace presents no risk or the least possible for employees. Doors are also covered by this rule. If you can provide a maintenance report, you demonstrate that you have done all you can to keep the business door as safe as possible.
European standard
Regular maintenance of sectional doors is regulated by law. In Europe, the European standard EN 13241-1 exists for this. This stipulates that sectional doors with electric drive must be serviced at least once a year. When maintenance has been carried out and all possible defects have been rectified, the door will receive a maintenance sticker and a maintenance report. Frequent use of the sectional door requires maintenance twice a year. Always observe the applicable national safety and maintenance regulations.
Pay attention! Safety tests and maintenance must be performed by qualified personnel!
What happens during maintenance?
During the annual maintenance of a company or industrial door, the door is checked on several points:
Suspension and rails are checked for damage and rust
The moving parts (cables, rollers) are tested for their smooth operation or damage.
The seals are checked
The engine and all associated control components are checked
The safety functions are tested
The panels are examined for damage
Torsion springs: If your door is fitted with torsion springs (usually standard on overhead doors), these must be replaced after 15,000 movements. A costly job. If you have a Compact door, you are lucky, because it has no torsion springs, which saves you extra maintenance.
If the technician finds any damage during maintenance, he will either repair it immediately if possible or arrange for replacement parts to be installed as soon as possible. All repairs and checks are recorded so that it can be traced what has already been done on the door.
Practical example:
A car company has a door that will no longer open. The owner will contact the dealer for a repair.
Inspection by a technician shows that the door was bought in 2010 and has never been serviced. Due to the lack of maintenance, the door has started to function less and less well over the years. This gradually resulted in damage. To get the door working, various parts have to be replaced. This is a costly operation.
If the customer had had maintenance carried out every year, this major repair would not have been necessary. Ultimately, the cost is many times higher due to the damage than if he had the door checked every year.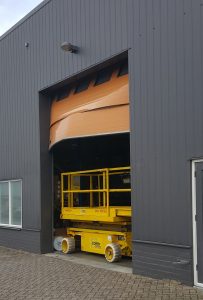 Conclusion: maintenance pays off!
Maintenance is important to ensure the safety of the sectional door and to prevent malfunctions. In addition, the life of the door is extended by regular maintenance. In fact, annual maintenance and a safety check are mandatory and must be performed by qualified personnel.
Unfortunately, in practice we see too often that skipping maintenance leads to extra costs for repairs. In this case, cheap is really expensive. Therefore, consider taking out a maintenance contract with a trusted dealer. Many dealers offer you additional benefits if you have a maintenance contract, such as a discount on spare parts or faster help with door problems. Please contact your dealer for more information.