At Rolflex, we love cars. Consequently, we love seeing our Compact doors in car dealerships, car wash booths and automotive production facilities. Bert Tiemessen, account manager, has seen many different types of applications in the automotive industry. "Clients are often surprised this door can solve so many design challenges". In this article we discuss some specific situations in which the Compact door proved to be the ideal solution.
Soundproofing and glazing
You can tackle many practical challenges as early as the design phase of a showroom/workshop. Bert Tiemessen: "A dealer from Den Bosch, The Netherlands wanted to use an industrial door as a division between the showroom and workshop. However, the ceiling in the workshop was going to be higher than the ceiling in the showroom, because of the car lifts. An overhead door wouldn't fit, as there was no room for the guide rails. A rolling door would fit, but would provide little insulation against noise from the workshop. Glazing, which ties in well with the design to emphasize light and open space, isn't possible in a rolling door either."
Images below show how this solution has worked out.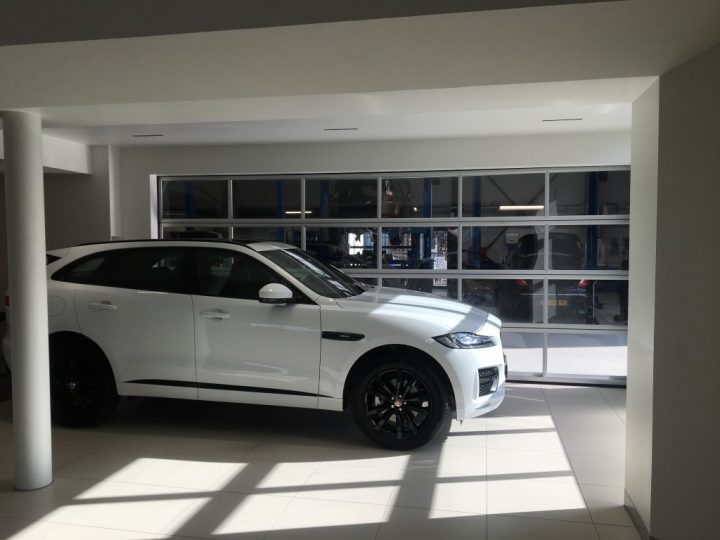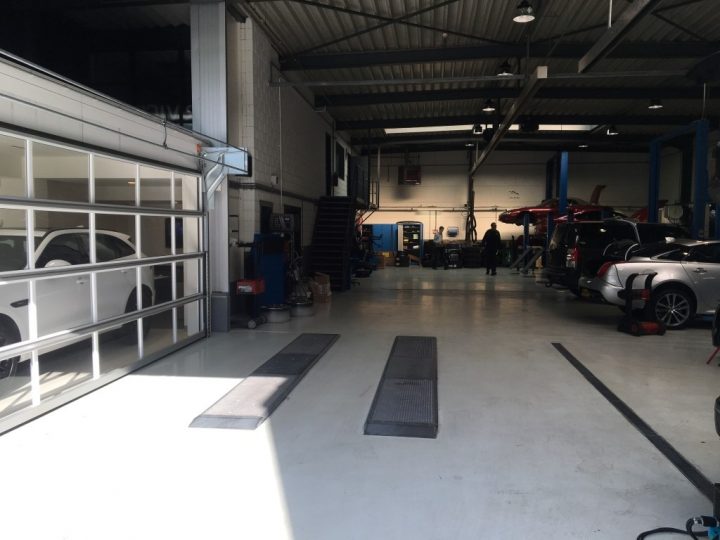 Lighting and maximum working height
In car workshops, doors need to meet a number of criteria, such as a high opening and closing frequency and high insulation values to provide a pleasant working environment. Bert Tiemessen: "The overhead doors in a garage in Arnhem were due to be replaced. These doors formed quite an obstruction when opened. They prevented car lifts in the workshop from reaching their full height, which meant that mechanics did not have the best possible working height. In addition, light from the strip light above the lift was blocked. A Compact door has created a lot more space while also allowing the lifts to go higher, without the risk of damage. A rolling door wouldn't have been a suitable alternative here either. Rolling doors are not suitable for glazing, as it blocks out a lot of natural daylight, whilst the insulation value of a rolling door is minimal."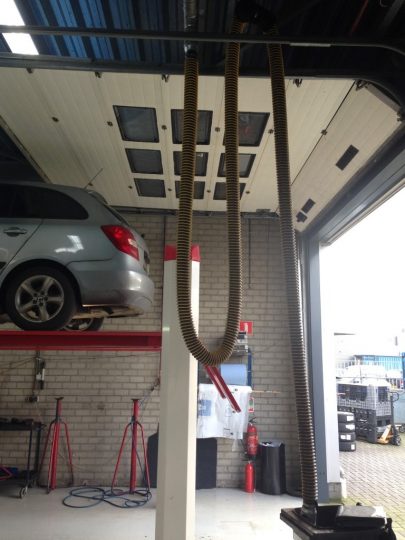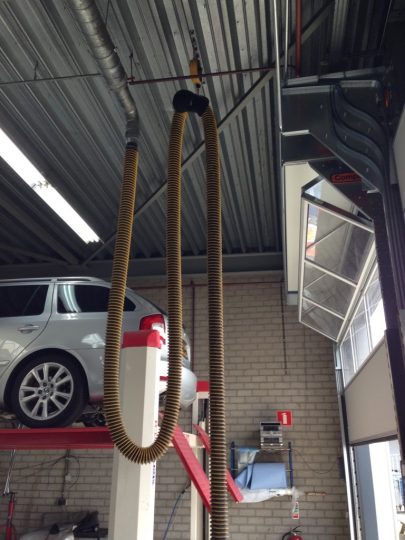 External Installation
Several years ago, due to the economic crisis, investment in new construction had been non-existent. Many companies and institutions have therefore opted to have their buildings renovated. Bert Tiemessen: "The Compact door is an excellent option, as it can replace any type of door and can be used in many different situations. For example, a car body workshop from Aalsmeer wanted to replace its rolling doors. There were a lot of pipes running directly above the doorway and light fixtures on the wall, which meant that there was no room for any other type of door. In order to fully utilise the space, the solution was to install Compact doors on the outside of the building."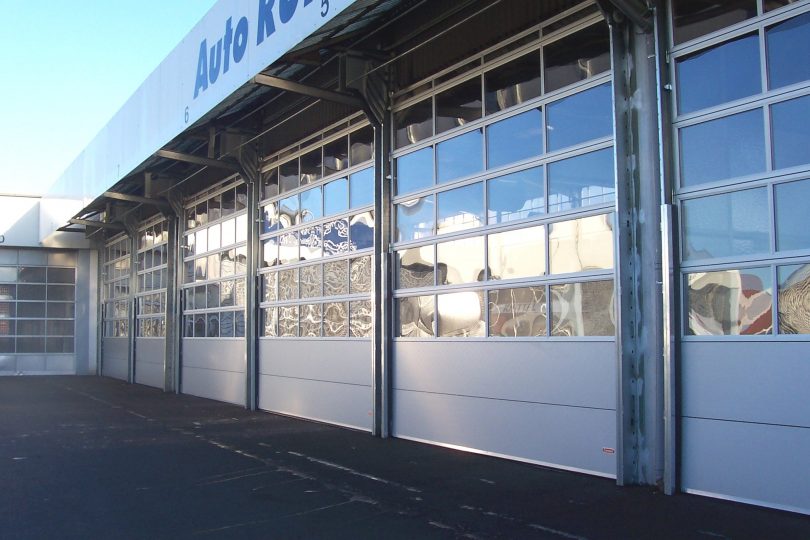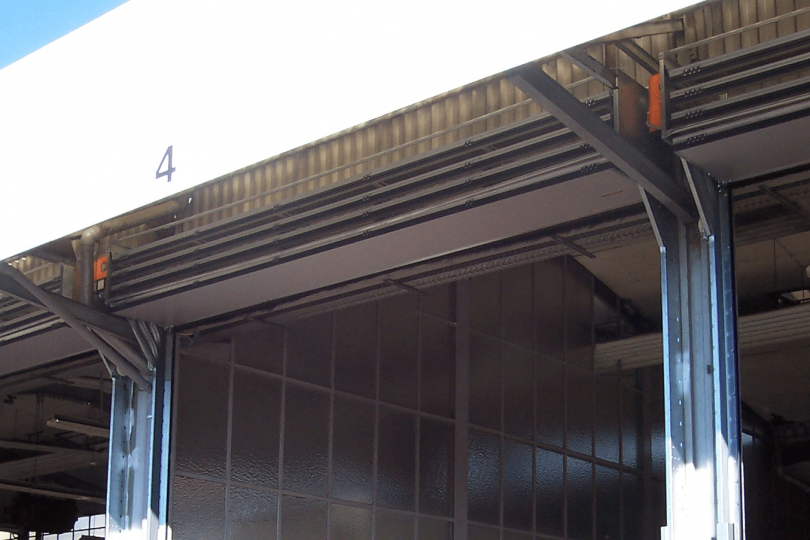 Fully integrated into the ceiling
Proper industrial doors create added value to any building. When closed, they form an integrated part of the front and must therefore match the overall design. When the doors are open, they should cause minimum obstruction. Bert Tiemessen: "At a car company in Velp, the client was looking for a modern finish in keeping with the design of the showroom. We opted for a solution where the Compact door disappeared into the ceiling when folding. Showrooms or industrial halls are sometimes designed to allow for the construction of an extra floor after completion. Since the Compact door doesn't need guide rails on the ceiling, it is also future-proof."
The automotive industry is second to none in terms of demanding innovative and functional solutions for production centres, showrooms and workshops. Bert Tiemessen: "Everything we do is, in fact, customised; we always aim to achieve the best possible solution for the client!"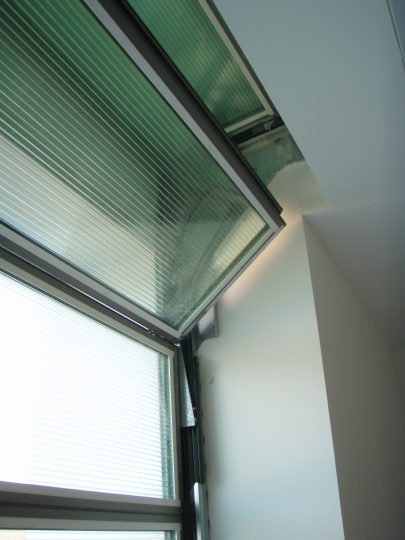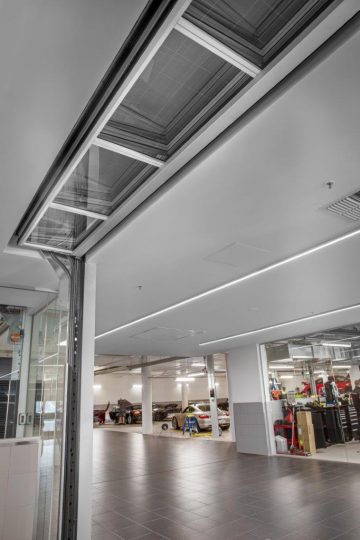 Want to know more? Read all about our automotive projects, like the car dealership in Melbourne or the Peugeot dealerships in The Netherlands.